产品简介
FTH, optical HDMI extension module, is designed to let digital flat panel display signal extend
over 200 meters away from host based on HDMI standard by optical transmission technology.
Its small package and transmit up to four video and one low-speed lane, while simultaneously
receiving one low-speed signal, all on one multimode fiber.

▪ Long distance transmission of digital graphic signal corresponding to T.M.D.S -over 200 meter (656ft)
 by multi-mode one fiber.
▪ TMDS video signals and EDID data are transmitted by 1 channel multimode optical fiber.
▪ Maximum Support resolution – Ultra High Definition (3840x2160@30Hz)
▪ Supports HDCP by DDC channel.

技术规格
• Connector (transmitter) : HDMI A type (female), LC connector (female)
• Connector (receiver) : HDMI A type (female), LC connector (female)
• Optic Fiber : 1ch / Multi-mode(50/125μm)
• Pixel Clock : 340MHz (single link)
• Supporting Resolution & Distance
- 4K(3840 x 2160) @ 30Hz
• Power Consumption (transmitter) : 0.3W (Typ)
• Power Consumption (receiver) : 1.39W (Typ)
• Power Supply (transmitter) : 100~240V DC 5V, 2A
• Power Supply (receiver) : 100~240V DC 5V, 2A
• Dimensions : 106W x 70D x 23H (mm)
• Operating Temperature Range : 0°C ~ 50°C
• Storage Temperature Range : -20°C ~ 70°C

连接示意图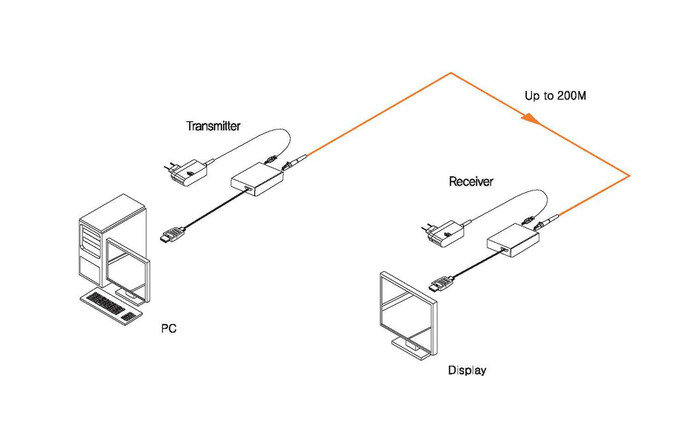 订购信息
Package
• Transmitter, Receiver
• 2 Power Adapter (for receiver)
• User's manual